Last day of Inventing Abstraction, 1910-1925
Inventing Abstraction, 1910-1925  closes today April 15th, 2013 and this concludes our series of daily tumblr posts. Over the course of three and a half months we have uploaded a lot of materials that supplement the exhibition, its catalog and website. We hope this tumblr will remain as a useful resource for anyone interested in early abstraction.
With best wishes to all our followers,
The curatorial team of Inventing Abstraction, 1910-1925.
---
Artist Frank Stella discusses Kazimir Malevich's Suprematist Composition: White on White of 1918.
Stella refers to Alfred Barr's chart for his 1936 "Cubism and Abstract Art" exhibition at MoMA.
---
AN EXHIBITION

El Lissitzky, New Man, from the portfolio Figurines, plastic representations of the electromechanical production entitled 'Victory over the Sun,' 1923
At the end of 1921, the Russian artist El Lissitzky traveled to Berlin, with support of the new Soviet government. There he participated in the organization of the First Russian Art Exhibition at the Galerie Van Diemen, which introduced recent Soviet art to a European audience for the first time after a long hiatus imposed by war and revolution. "The Blockade of Russia is coming to an end," Lissitzky announced. So great was the exhibition's success that in the spring of 1923 it travelled to the Stedelijk Museum in Amsterdam, where Lissitzky lectured on the new Soviet art, forging contacts with Dutch artists and architects.
---
Tonight on Charlie Rose
You can watch an interview with Leah Dickerman about Inventing Abstraction, 1910-1925.
---
Ai Wei Wei, Fountain of Light, 2007
This steel and glass structure, illuminated from the inside, is the contemporary Chinese artist Ai Wei Wei's reinterpretation of Vladimir Tatlin's Monument to the Third International.  It was exhibited at Tate Liverpool in 2007.
---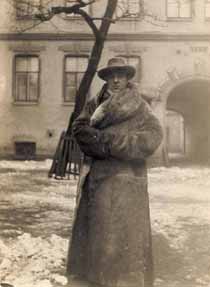 Arnold Schoenberg in the courtyard of the St.Petersburg Philarmonic, 1912

In 1911 Vasily Kandinsky introduced Arnold Schoenberg's musical theory to Russia by publishing his own translation of the composer's groundbreaking Theory of Harmony in a 1911 exhibition catalog of the International Art Salon, which traveled to several major cities in Russia. In the winter of 1912 Schoenberg was invited to St. Petersburg to conduct. This was his opportunity to make personal contact with the leading musicians and artists who were already familiar with his musical theory and compositions. 

Schoenberg in Inventing Abstraction
---
An installation photo with a visitor in front of Morgan Russell's 11 foot painting Synchromy in Orange: to Form (on the right)
Another great photo of this monumental painting in Inventing Abstraction appeared in The New York Times review of the exhibition in December 2012.
---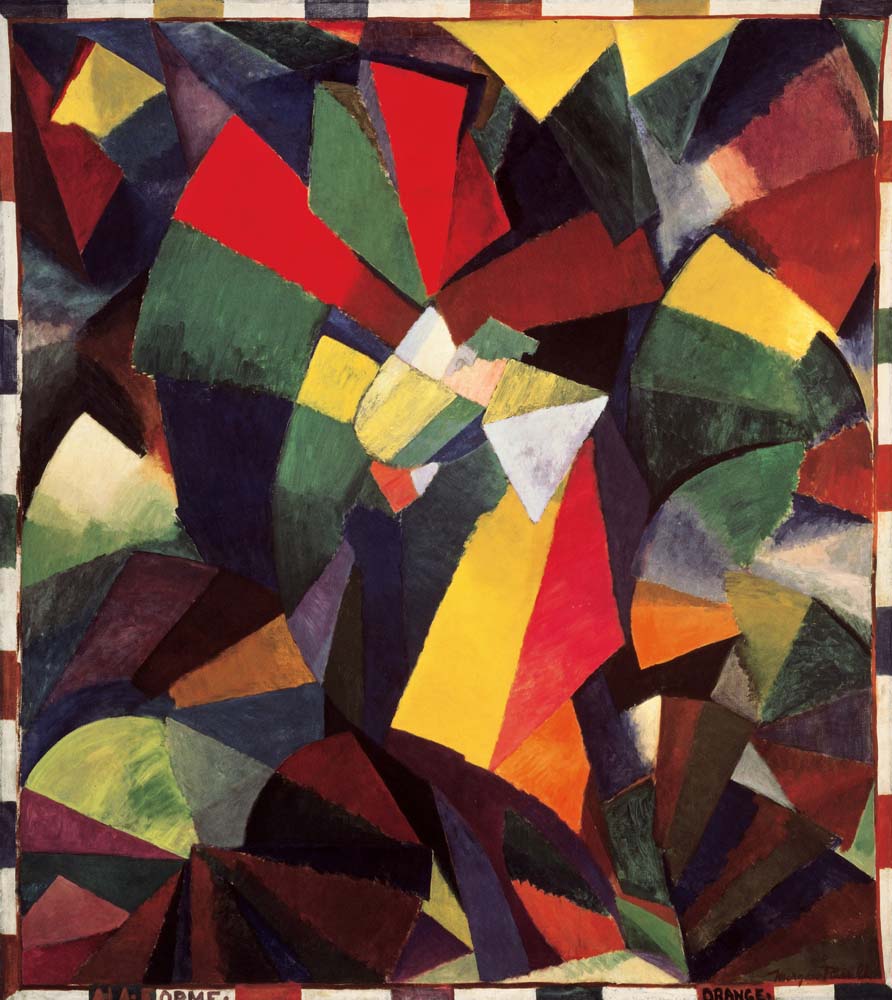 Morgan Russell, Synchromy in Orange to Form, 1914

In this painting, Russell models the rhythm of space through the juxtaposition of saturated colors, which form bands that buckle and fold over a monumental surface, spilling onto the painted frame. "I always felt the need to impose on color the same violent twists and spirals that Rubens and Michelangelo imposed on the human body," Russell wrote about his abstraction in 1912. Based in Paris since 1909, Russell made this painting for the Salon des Indépendants where it was exhibited in the spring of 1914 with a full title: Synchromie en orange: la création de l'homme conçue comme le résultat d'une force génératrice naturelle (Synchromy in Orange: the creation of man conceived as a result of a natural generative force). This painting's ambitious scale, unique in Russell's oeuvre, was undoubtedly a response to the succession of large abstract pictures shown at the Parisian salons over the previous two years by artists such as Kupka, Picabia, Leger and Delaunay.
Learn more about Morgan Russell through his archive and collection at the Montclair Art Museum in New Jersey
---

Sonia Delaunay-Terk and a companion wearing clothing of the artist's design and with a Citroen B12 decorated by her. 1925
Sonia Delaunay produced works according to the principles of simultaneous painting along the entire spectrum of the fine and the applied arts: from paintings, drawings and book bindings to clothing, decorative objects for the home and even cars.
---
THE CAFE

Sonia and Robert Delaunay, 1923

In the summer of 1913, the Russian literary scholar Aleksandr Smirnov visited Robert and Sonia Delaunay in France. Returning to his native St. Petersburg, Smirnov spread the word of the new art he had seen, lecturing at the famous Stray Dog café, an avant-garde gathering place, on the Delaunays' latest work and their theory of simultaneous contrasts. He brought with him posters, made by Sonia for his presentation, and a copy of the book she had created in collaboration with the poet Blaise Cendrars.



---
compiled by our librarian Jennifer Tobias.
The diagram we created for Inventing Abstraction is part of this larger tradition. 
And here are some earlier posts about charts.
---
In the autumn of 1912, Mikhail Larionov and Natalia Goncharova developed a new visual language they called Rayism, in which, inspired by the discovery of x-rays and radioactivity, they claimed to depict not objects but rays of light or energy these objects reflected. "I established the convention," Larionov wrote in 1913, "of depicting a ray on canvas as a colored line." In this painting, Larionov traces rays that radiate from glass; he creates a dense network of lines and planes fusing object and background into a single unit. 
---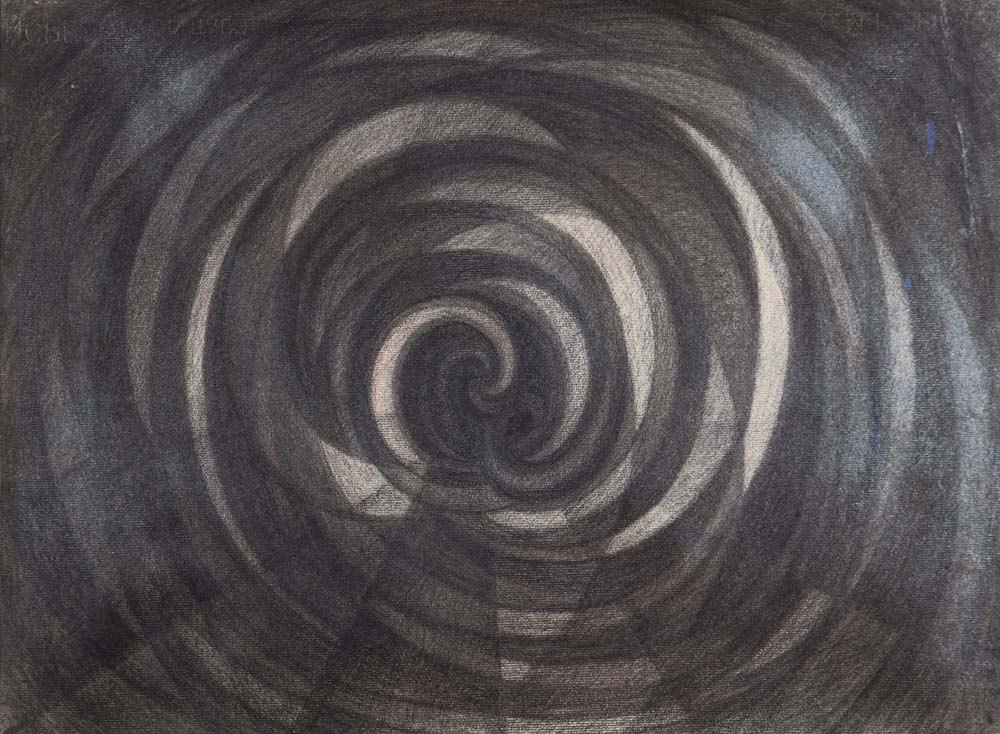 Emilio Pettoruti, Dynamic Expansion, 1914

In this work Pettoruti aims to convey the synchronicity of movement, light and rhythm with arching curves and shadows created from the subtle tonal range of charcoal on paper. This work is among this artist's earliest forays into abstraction, made a year after he moved from his native Argentina to Italy where he was introduced to Futurist art.
---
Here is another photograph of visitors in the galleries of Inventing Abstraction. The free-standing wall in the middle is dedicated to artists' study of color. This wall includes August Macke's Colored Squaresdiscussed in an earlier post today. To the left are Vaclav Nijinsky's drawings, to the right the sections dedicated to abstract film and technological abstraction in Berlin.
---
Join Masha Chlenova, of the curatorial team, for a public tour of Inventing Abstraction  tomorrow, Friday April 5th at 12:30 pm. Meet at the entrance of the exhibition near the audio guide desk.
---