August Macke, Colored Squares, 1913

Color is the primary subject of Macke's abstract works. In this painting he arranged triangles in a grid in a systematic progression from warm to cool hues. Adjacent colors make individual shapes flicker through their complementary and contrasting effects, guiding our gaze to isolate shapes and relate them to each other.
---
Abstract Currents - an Interactive Video Event at MoMA
On Sunday April 7th, 8:30-11:30 pm join us for a special party at The Museum of Modern Art, organized in conjunction with the exhibitions Inventing Abstraction, 1910-1925 and Abstract Generation: Now in Print.
The Pop Rally committee has collected hundreds of one-minute abstract videos created by the public. These video minutes open a broad window into the ways that abstraction endlessly inspires artists, designers, and anyone observing the peripheries of their own daily life. The captured imagery, ranging from the bizarre to the contemplative, is made from small observations in nature, flowing psychedelic mutations, and digitally imagined spaces.

Join us for a special party and see all of the submitted videos displayed on various screens and projections in MoMA's lobby and on the Marron Atrium walls. Dream-pop queen Tamaryn will DJ the event, providing a hypnotic soundtrack to the collectively built abstract videoscape.
---
---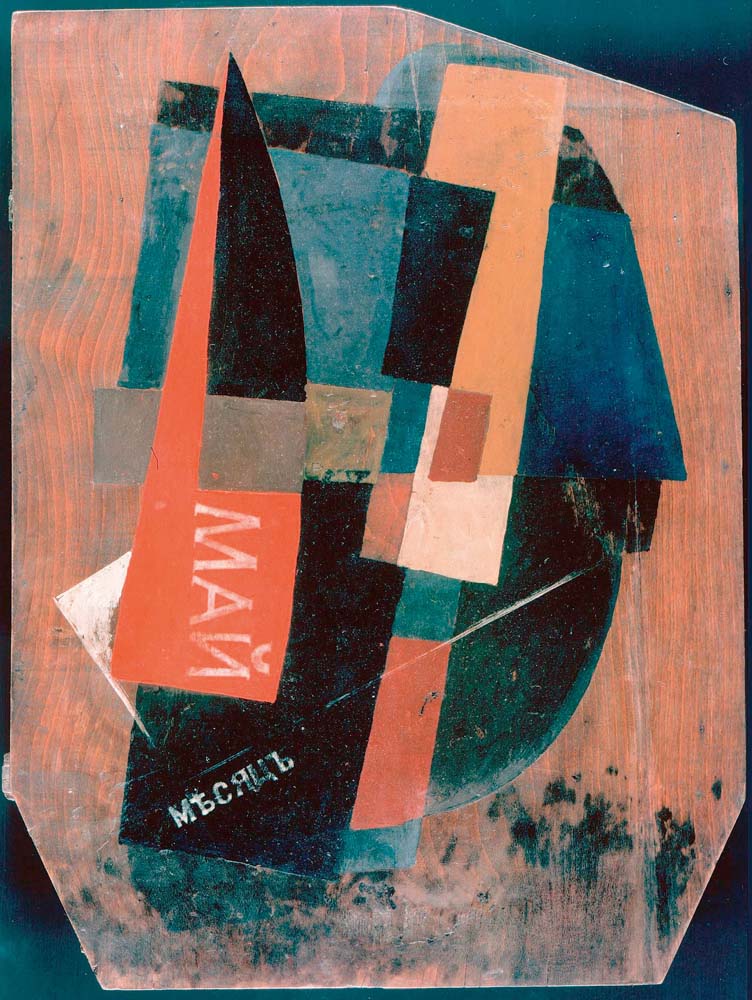 Vladimir Tatlin, Composition, 1916
Vladimir Tatlin made and exhibited three-dimensional abstract reliefs in 1914 and 1915. In this work he revisits two-dimensional form, as if to reflect on the roots of his abstract practice. The media of this work - painted in tempera on wood - refer to medieval Orthodox Christian icons, which inspired many avant-garde artists in Russia. At the same time, overlapping planes, oval shape and stenciled letters in this work directly reference cubist collage, another key source of Tatlin's abstract idiom. The inscribed words 'month' and 'May' most likely refer to the artist's close affinity with the poetic practice of Velimir Khlebnikov, with whom he was traveling and working in May of 1916, the year this work was created.
---
Yesterday AICA - USA (International Association of Art Critics) awarded Inventing Abstraction its first prize for the Best Historical Museum Show Nationally. The awards are granted by vote of AICA - USA members, which include over 400 critics, curators, scholars and art historians working throughout the United States.
---
The Scout

Alfred Stieglitz, ca. 1909 Photographed by Edward Steichen
Marius de Zayas, "Femme! (Elle)" in 291 no. 9 (November 1915)
Francis Picabia, "Voila Elle" in 291 no. 9 (November 1915)
Searching for European artists to exhibit at his 291 gallery in New York, Alfred Stieglitz deputized the Mexican artist Marius de Zayas, who was living in Paris in 1914, as a scout. Abetting his efforts to find talent, Francis Picabia introduced de Zayas to the poet Guillaume Apollinaire. De Zayas's rapturous report of the meeting prompted Stieglitz to begin an exchange of journals with Apollinaire through the mail. Stieglitz's magazine, 291, was modeled in part on the French poet's review Les Soirées de Paris.
---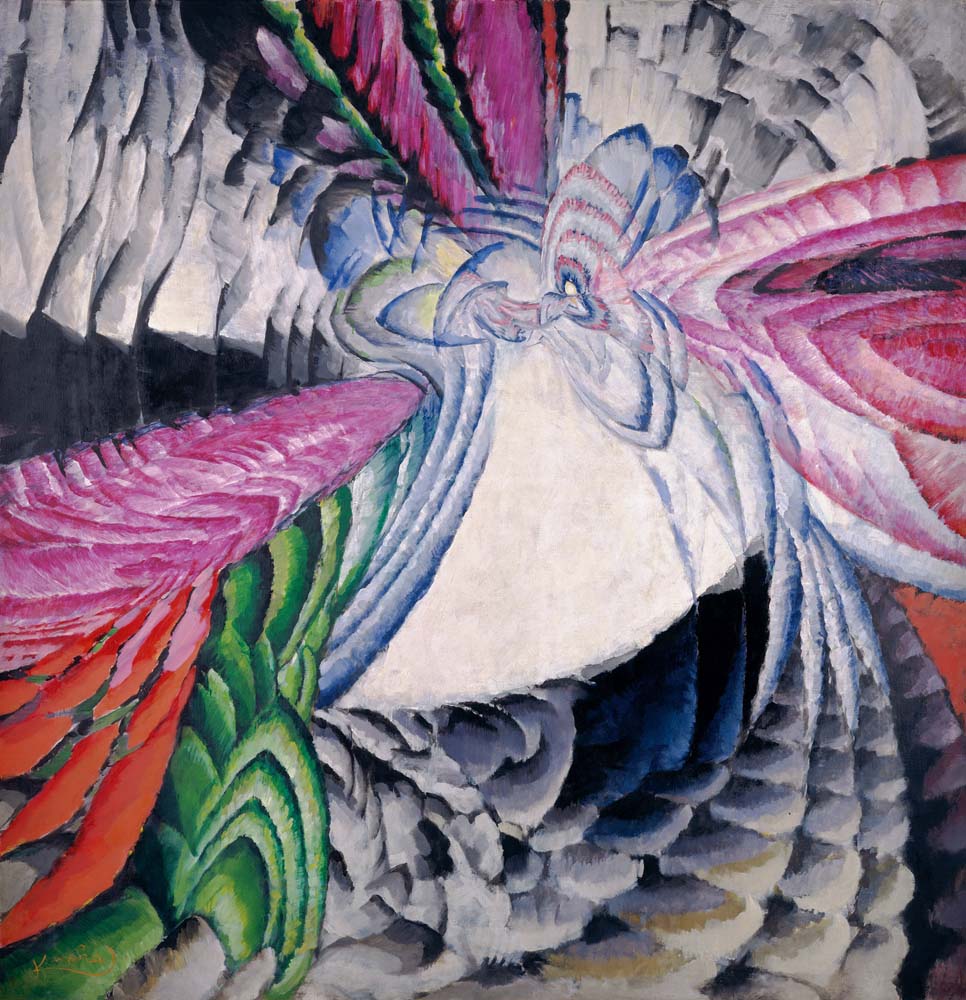 Frantisek Kupka, Localization of Graphic Motifs II, 1912-13
On Friday April 5th at 12:30 pm join Masha Chlenova, of the curatorial team, for a public tour of Inventing Abstraction. Meet at the entrance of the exhibition near the audio guide desk.
---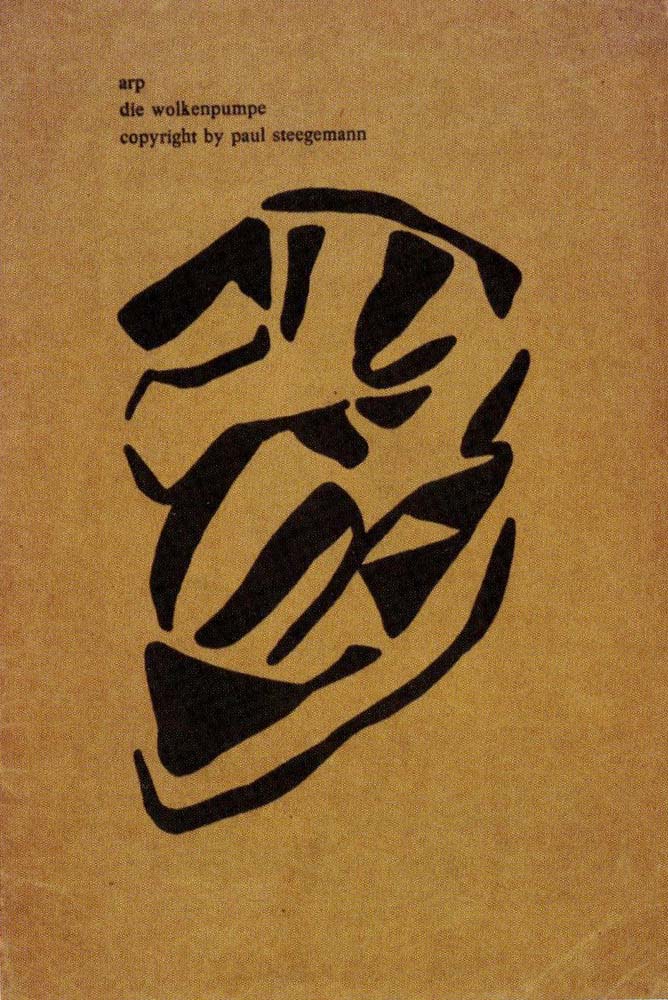 Hans Arp published his first book of sound poetry, Wolkenpumpe, in 1920. It included poems he wrote over several preceding year, may of which were recited at Dada soirees and previously published in Dada periodicals. Arp's design for the cover of his book is closely related to his poems; both are printed without conventional spacing or punctuation, inviting the reader to participate in deciphering their meanings. The title of the volume is a neologism that plays with one of Arp's favorite images, that of clouds ('Wolken'), and with the double meaning of 'skypumpe,' which in Scandinavian languages and in German suggests either a whirlwind or hurricane or something harmonious, idyllic and fairylike. this open-ended wordplay suggests the way Arp understood Dada as seeming non-sense that opens up "limitless meaning."
Listen to Hans Arp reading his poems from his book Wolkenpumpe (1920)
---
Glenn D. Lowry, Director of The Museum of Modern Art, discusses Filippo Tommaso Marinetti's Vive la France currently on view in Inventing Abstraction.
---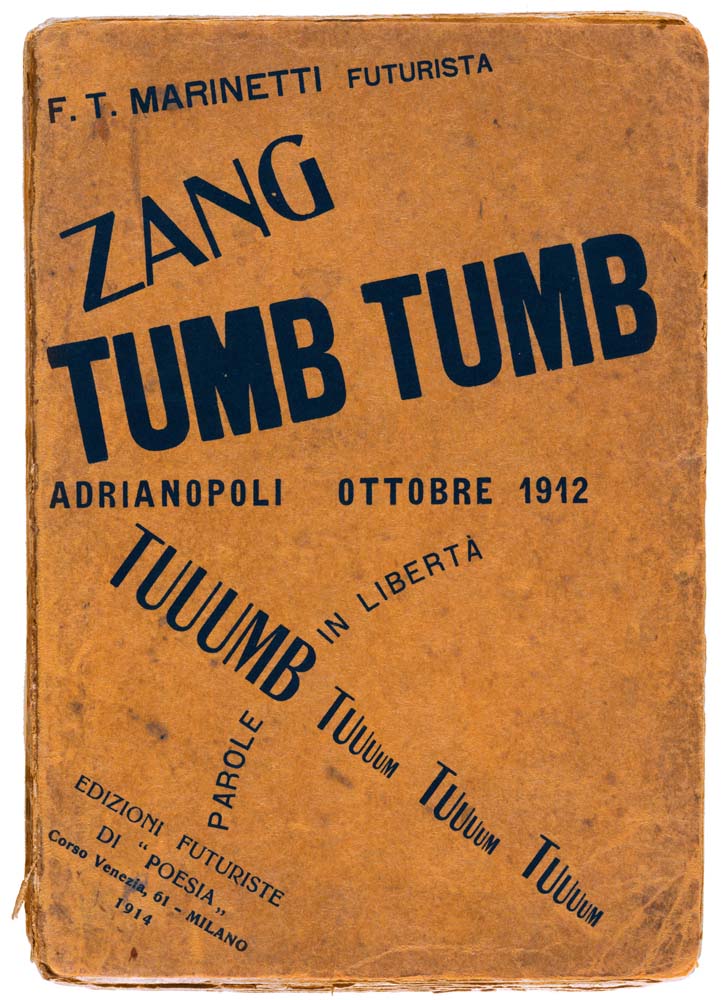 Filippo Tommaso Marinetti, Zang Tumb Tumb, 1912 
Zang Tumb Tumb is Marinetti's first published collection of parole in liberta (words in freedom), a form of poetry that is both verbal and visual. Conceived in 1912 and published in 1914 it is an account of Marinetti's experience of the battle of Adrianople (now Edirne in Turkey) during the Balkan War of 1912. The title of the book reflects the poet's interest in making the words evoke the sounds of war, such as artillery shelling and explosions.  
This fold out page from Zang Tumb Tumb, entitled Carta Syncrona, illustrates Marinetti's goal to make language function graphically. Here words and vectors map a battle as an event in space and in time.

---
A 1913 chronological chart for the Armory Show
The Armory Show, a celebrated modern art exhibition held in New York in 1913, was conceived in a historical way, intended to trace recent developments in modern art from its roots in the nineteenth century. To this end the artist Arthur B. Davies, then president of the Association of American Painters and Sculptors, created a chronological chart "showing the growth of modern art." He published it in the special issue of the magazine Arts and Decoration in March 1913, dedicated to the exhibition.
MoMA is celebrating the centennial of The Armory Show with a series of videos about works made in 1913.
---
A Futurist on the Road

Filippo Tomasso Marinetti, ca. 1914

The Italian poet and editor Filippo Tomasso Marinetti arrived in Russia in 1914 to publicize Futurist achievements. There he lectured to (and debated) an audience of Russian avant-garde artists and poets. At one of Marinetti's evenings, a heated exchange took place between the Italian poet, the painter Mikhail Larionov, and the linguist Roman Jakobson. Jakobson snapped at Marinetti: "You may understand Russian women, but you have no idea about Russian poetry." Marinetti's Russian reception was divisive enough to precipitate the dissolution of existing artistic affiliations and the formation of even more radically innovative Russian successor movements.
---
Above, Ann Temkin, The Marie-Josée and Henry Kravis Chief Curator of Painting and Sculpture, speaks about Fernand Leger's Contrast of Forms of 1913, currently on view in Inventing Abstraction. 
This video is part of a series created in celebration of the landmark year 1913, highlighting important works from 1913 in the Museum's collection.
---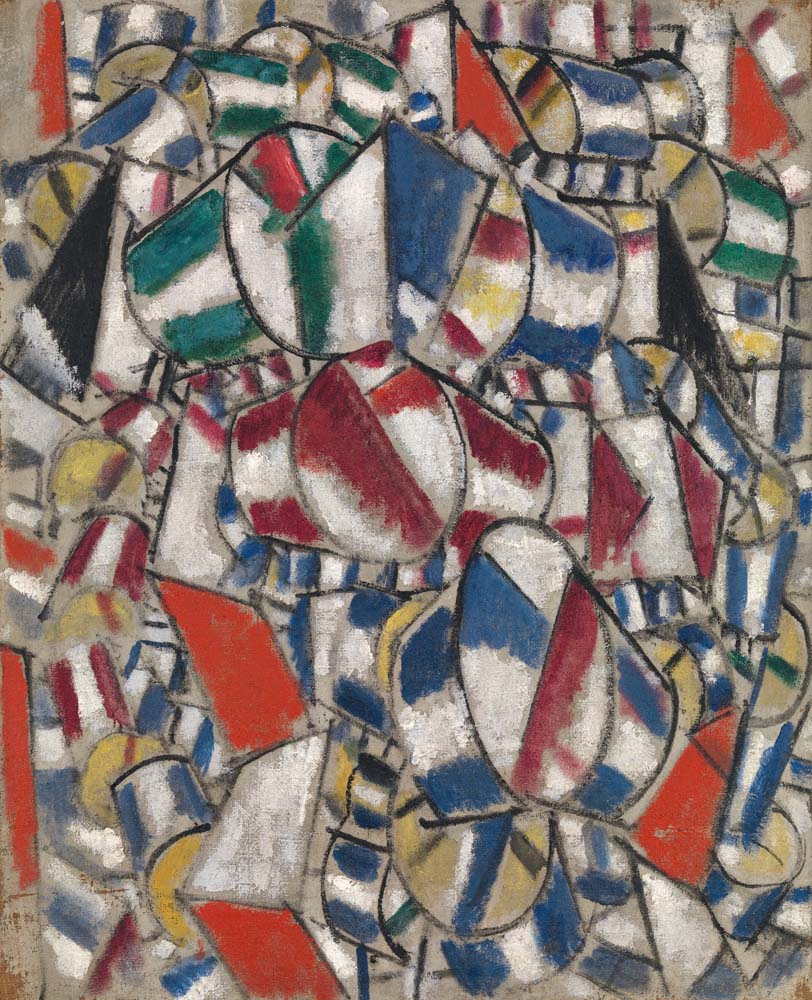 Fernand Leger, Contrast of Forms, 1912
In 1912 Fernand Leger announced his programmatic turn to abstraction in two public lectures he gave at the drawing studio and artists' meeting place - the Academie Wassilieff on Montparnasse. "Pictorial contrasts used in their purest sense (complementary colors, lines and forms)" Leger stated, "are henceforth the structural basis of modern pictures." For Leger his turn to abstraction was "a necessary response to the processes of modernization in everyday life."
---
Visitors in the galleries of Inventing Abstraction.
---