A PARTY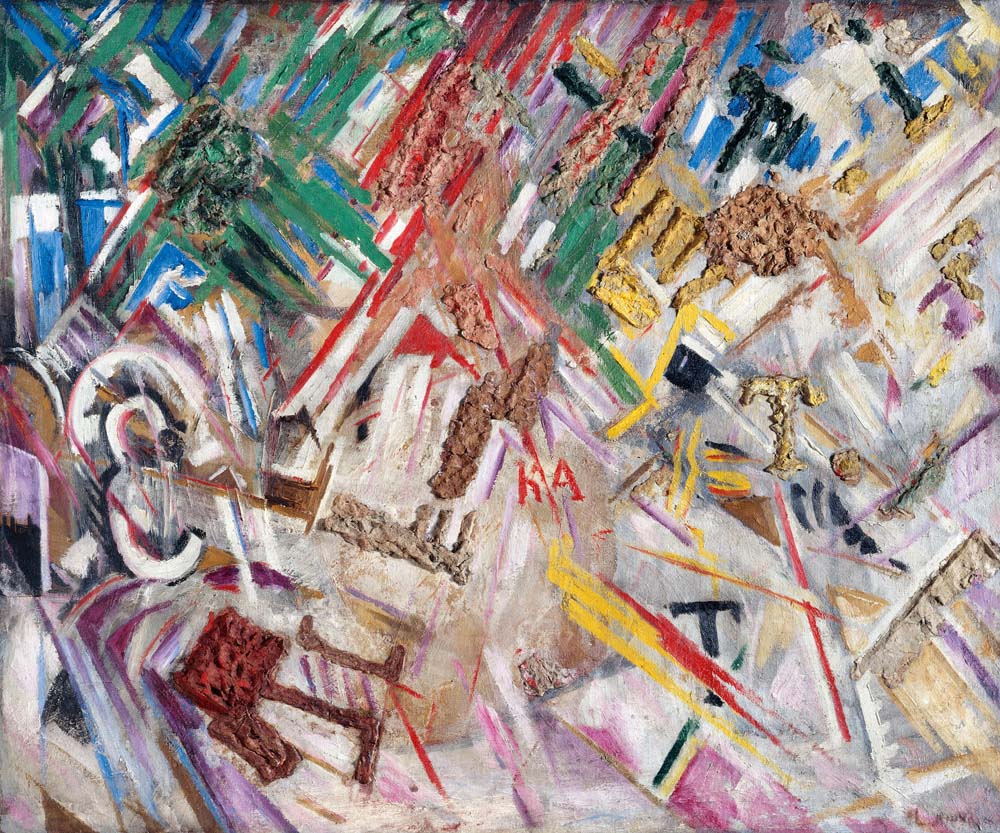 Mikhail Larionov, Sunny Day (pneumo-rayist colored structure), 1913-14 
In April 1914 Mikhail Larionov and Natalia Goncharova left Russia for Paris by train to work for the balletmaster Sergei Diaghilev. En route, they stopped in Rome to organize a conference comparing Russian and Italian Futurism. Once they reached the French capital, the gregarious poet Guillaume Apollinaire was quick to welcome them: he organized an exhibition of their work and threw a grand opening party. Among the guests were Robert and Sonia Delaunay, Constantin Brancusi, Blaise Cendrars, Pablo Picasso, Marcel Duchamp, Fernand Léger, and Léopold Survage.
Larionov gave this painting to Guillaume Apollinaire in gratitude for his help in promoting his and Goncharova's work in Paris.
---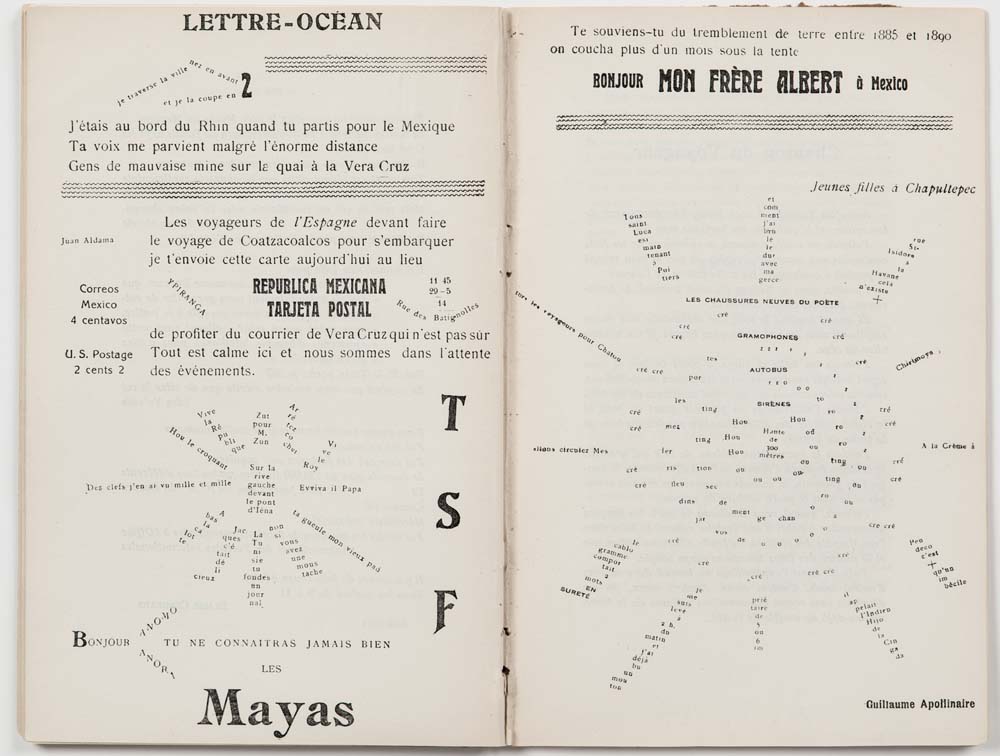 This is Guillaume Apollinaire's first published visual poem, for which he later coined the term  "calligramme" by joining the words "calligraphy" and "ideogram" (a picture used to represent a thing or an idea).
Such poems were meant to be read and seen at the same time. Breaking down the traditional block of text as well as the usual horizontal reading from left to right, letters are distributed across the page so that the white space of the page is integrated into the poem's form. Letters are printed in various fonts and sizes to emphasize their graphic form as well as suggest sonic variation. The poem's title Lettre-Ocean is  best rendered in English as "Ship-to-ship letter." It refers to a type
of message that passengers at sea could send to shore by having it transmitted from ship to ship by telegraph.
You can learn more about this poem and its evocative meaning here.

See also our earlier post on Apollinaire's poetic volume Case d'Armons published from the trenches of World War I
---
Tomorrow Friday February 8th at 3pm, the poet and founder of ubu web, Kenneth Goldsmith will read Blaise Cendrars' poem La Prose du Transsiberien in the galleries of Inventing Abstraction.

At 4:30 Masha Chlenova, of the exhibition's curatorial team, will lead a public tour of the exhibition.
---
Poetry and abstraction
Guillaume Apollinaire with a wound from his service in French artillery in World War I.
Many artists in the exhibition wrote experimental sound poetry or had important relationships with writers who did. Ubu Sound, an online archive maintained by the poet Kenneth Goldsmith, contains a wealth of historic recordings of the artists and poets whose work is included in Inventing Abstraction. One can hear Guillaume Apollinaire, Hans Arp, Tristan Tzara and a rare collection of interviews with Marcel Duchamp.
---
THE ROAD TRIP
In late July 1912, Francis Picabia, Guillaume Apollinaire, and Claude Debussy set out on a road trip, packing into one of the painter's magnificent cars. As they rumbled along, they debated the validity of "pure painting." Picabia argued with passion for a new art that would no longer picture things in the world. When he got home, he worked feverishly, creating audacious paintings that when exhibited that fall counted among the first abstract works shown in Paris. Put a modern artist, poet, and composer in a car and what do you get? Abstraction.
Here's Picabia behind the wheel years later in a photo by Man Ray
---
On Friday February 8 at 3pm, Kenneth Goldsmith will read poet Blaise Cendrars' "The Prose of the Trans-Siberian and of Little Joan of France" in the Inventing Abstraction, 1910–1925 exhibition galleries, in front of the influential book illustrated by Sonia Delaunay. The display includes Delaunay's original painting for this book, Delaunay's and Cendrars' working maquette, and the final published version - in this case a copy that belonged to the poet Guillaume Apollinaire.
Watch a video of Goldsmith talking about his role in MoMA's Artists Experiment program.
---