An installation photo with a visitor in front of Morgan Russell's 11 foot painting Synchromy in Orange: to Form (on the right)
Another great photo of this monumental painting in Inventing Abstraction appeared in The New York Times review of the exhibition in December 2012.
---

Sonia Delaunay-Terk and a companion wearing clothing of the artist's design and with a Citroen B12 decorated by her. 1925
Sonia Delaunay produced works according to the principles of simultaneous painting along the entire spectrum of the fine and the applied arts: from paintings, drawings and book bindings to clothing, decorative objects for the home and even cars.
---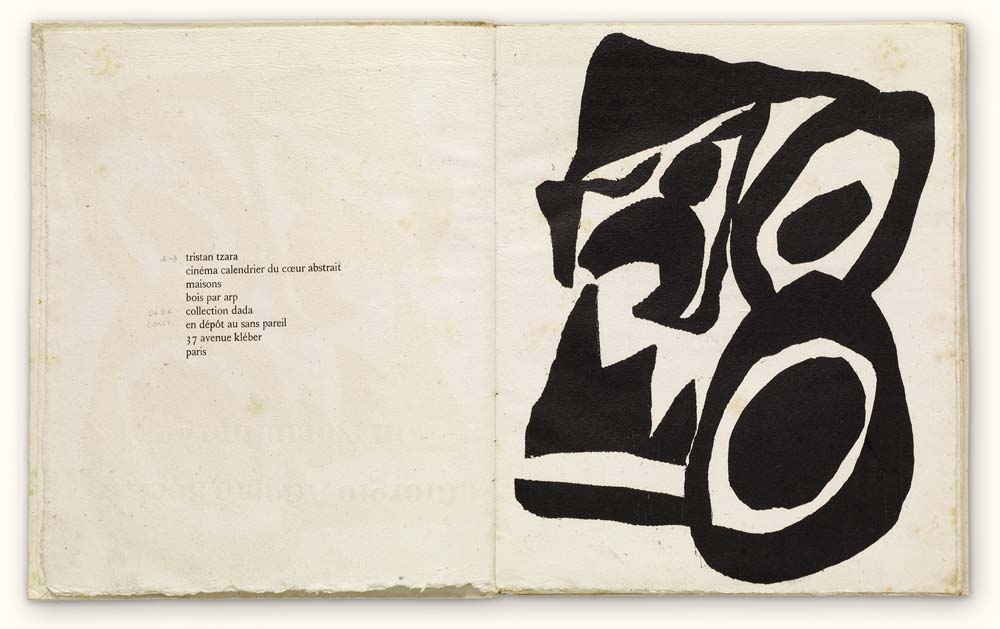 Hans Arp and Tristan Tzara, Cinema Calendrier du Coeur Abstrait, Maisons (Cinema Calendrier of Abstract Hearts, Houses), 1920 

This book is a collaboration between a Dada artist and poet. Tzara collages elements of language into unexpected associative strings, while Arp uses the organic forms of his woodcuts to evoke the unceasing transformations of language.
---
Born in France, composer Edgard Varese divided his time between Berlin and Paris before moving to New York in 1915, where he continued to maintain close ties with many artists and composers on both sides of the Atlantic, including the Dadaists Francis Picabia, Marcel Duchamp and Man Ray. One of Varese's most innovative compositions is Hyperprism of 1923, written for nine wind instruments and percussion. In this work timbre and texture replace pitch as the main focus, and percussion has an autonomous function. This composition is characterized by dynamic contrasts and juxtapositions rather than by harmonious melodic development. You can hear this work as part of Q2 public radio's musical program Reinventing Music organized in conjunction with Inventing Abstraction.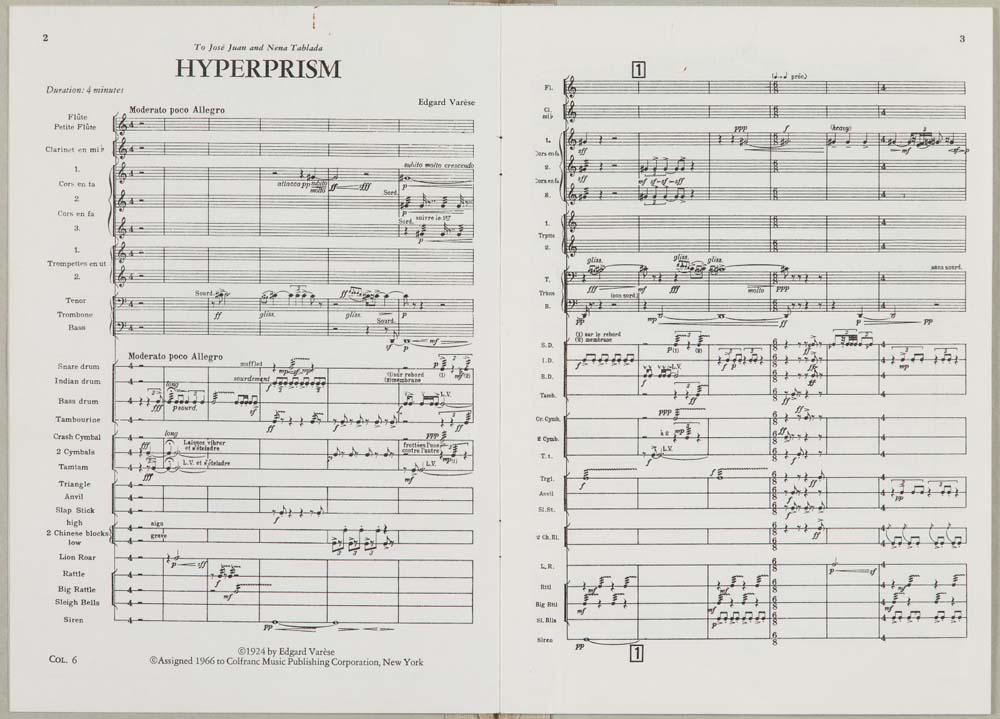 Edgar Varese, Hyperprism, 1923
See Varese's connections to other figures in Inventing Abstraction
---
On the website of Q2 Music, the blogger David Patrick Stearns analyzes the form-changing musical innovations of the period 1910-1925.
---
AVOIDANCE
When the Dutch artist Piet Mondrian moved to Paris in early 1912 he was anxious about carving out a place for himself in the world's reigning cultural capital. However, it was not long before he was noticed by the poet and critic Guillaume Apollinaire who praised his work as a form of "very abstract Cubism." For his part, Mondrian was so eager to avoid Cubist painter Pablo Picasso's charismatic influence—and his insistence that painting represent things—that he recalled taking great pains to avoid meeting Picasso in these years.
---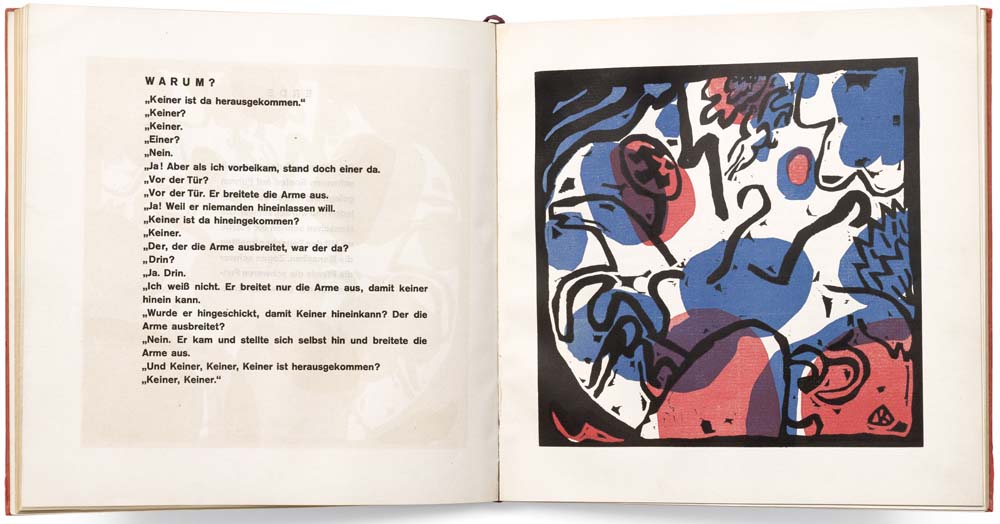 Vasily Kandinsky, Sounds, late 1912 or 1913
In late 1912 or 1913 Vasily Kandinsky produced a volume, in which he paired thirty-eight of his poems with woodcuts. He declared: "I wanted to create nothing but sounds," and called the book Klange (Sounds). In these poems, written between 1907 and 1909, Kandinsky emphasized the physiological impact of the sonic quality of language, often repeating words until, he suggested, focus on meaning subsided and new focus on aural character of words emerged. These poems were instrumental in Kandinsky's development of abstraction. They also inspired many other artists, including the Dadaists, who read them aloud in 1916 at the Cabaret Voltaire in Zurich.
Learn more about this book and see an interactive page-turning view of it


---
Image: Frantisek Kupka, Localization of Graphic Motifs, 1913-14
Tonight, March 6th at 6:30 pm, Masha Chlenova, of the curatorial team, will give a free public lecture about Inventing Abstraction at New York Mid-Manhattan Library.
---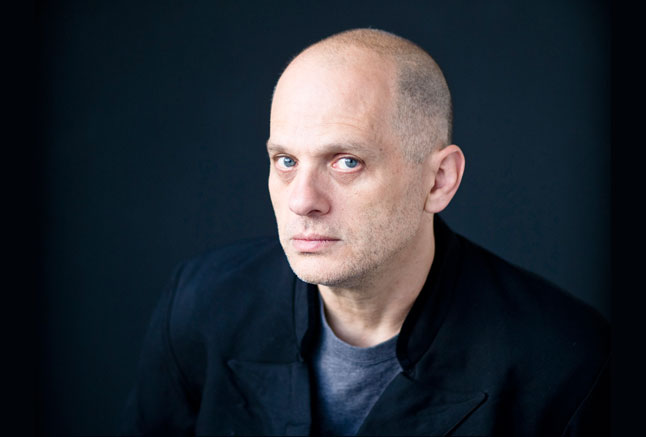 Yesterday's concert, Consonant Abstraction, organized by David Lang with a guest appearance by Steve Reich, was a mix of thrilling music and thought-provoking conversation. You can listen to it here. The second concert in this pair will take place next Monday, March 4th, at 6pm. Entitled Dissonant Abstraction, it will bring together music composed by Arnold Schoenberg and Morton Feldman, performed by alumni musicians of the Bang on a Can Summer Festival at Mass MoCA.

This concert has not sold out yet, so hurry! 
---
Watch a short video with Ann Temkin, The Marie-Josée and Henry Kravis Chief Curator of Painting and Sculpture at The Museum of Modern Art, talking about Dinamismo di un foot-baller (Dynamism of a soccer player) by Umberto Boccioni, currently on view in Inventing Abstraction.
---
A FIGHT AMONG FRIENDS
From left to right: Filippo Tommaso Marinetti, Luigi Russolo, Carlo Carra, Umberto Boccioni and Gino Severini. Undated. Photograph by Georges Megerditchian.
In late June 1911, Filippo Tommaso Marinetti, Carlo Carrà, Umberto Boccioni and other Futurist artists spent an evening together at Caffè Giubbe Rosse in Florence. After a night of incendiary speeches and provocative proclamations, Boccioni turned a verbal confrontation into a physical one by slapping the artist and critic Ardengo Soffici in the face. The brawl escalated, and both artists ended up at the police station. By the next day, however, they were once again on friendly terms, exchanging ideas about the future of art making in Italy and beyond.
---
Kazimir Malevich, Self-Portrait in Two Dimensions, 1915
Kazimir Malevich often changed the orientation of his abstract works. In 1915 he exhibited this painting the way we do in Inventing Abstraction. But during his solo exhibition in Berlin in 1927 the artist hung this work upside down. The hardware on this painting when we received it on loan from the Stedelijk Museum in Amsterdam followed the 1927 hanging. We added a second set of rings to display the work the way it appeared in the original 1915 display, which our installation follows. We are lucky that historic installation photographs of both exhibitions have been preserved.
Installation view showing the gallery of work by Kazimir Malevich at The Last Futurist Exhibition of Paintings 0.10 in Petrograd, 1915. Self-Portrait in Two Dimensions is visible on the far right.
---
THE ROAD TRIP
In late July 1912, Francis Picabia, Guillaume Apollinaire, and Claude Debussy set out on a road trip, packing into one of the painter's magnificent cars. As they rumbled along, they debated the validity of "pure painting." Picabia argued with passion for a new art that would no longer picture things in the world. When he got home, he worked feverishly, creating audacious paintings that when exhibited that fall counted among the first abstract works shown in Paris. Put a modern artist, poet, and composer in a car and what do you get? Abstraction.
Here's Picabia behind the wheel years later in a photo by Man Ray
---
Another diagram of the development of modern art—one that Alfred Barr himself had seen—is Miguel Covarrubias' Tree of Modern Art - Planted 60 years ago, which was published in Vanity Fair in 1933.
For more on the charts see Robin Cembalest's article in ArtNews
---
On Friday February 8 at 3pm, Kenneth Goldsmith will read poet Blaise Cendrars' "The Prose of the Trans-Siberian and of Little Joan of France" in the Inventing Abstraction, 1910–1925 exhibition galleries, in front of the influential book illustrated by Sonia Delaunay. The display includes Delaunay's original painting for this book, Delaunay's and Cendrars' working maquette, and the final published version - in this case a copy that belonged to the poet Guillaume Apollinaire.
Watch a video of Goldsmith talking about his role in MoMA's Artists Experiment program.
---