The Scout

Alfred Stieglitz, ca. 1909 Photographed by Edward Steichen
Marius de Zayas, "Femme! (Elle)" in 291 no. 9 (November 1915)
Francis Picabia, "Voila Elle" in 291 no. 9 (November 1915)
Searching for European artists to exhibit at his 291 gallery in New York, Alfred Stieglitz deputized the Mexican artist Marius de Zayas, who was living in Paris in 1914, as a scout. Abetting his efforts to find talent, Francis Picabia introduced de Zayas to the poet Guillaume Apollinaire. De Zayas's rapturous report of the meeting prompted Stieglitz to begin an exchange of journals with Apollinaire through the mail. Stieglitz's magazine, 291, was modeled in part on the French poet's review Les Soirées de Paris.
---
THE OVERNIGHT GUEST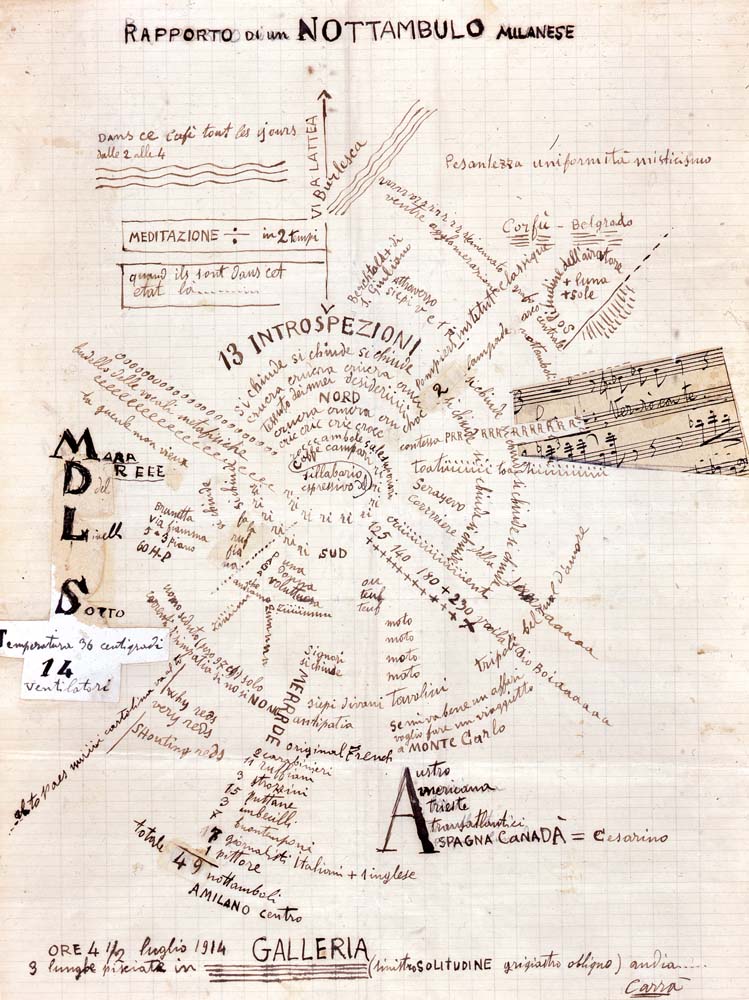 Carlo Carrà, Chronicle of a Milanese Night Owl, 1914

The poet-painter Carlo Carrà traveled to Paris as part of a delegation of Italian Futurists in 1914. The French poet Guillaume Apollinaire put him up in the offices of his review Les Soirées de Paris, and the two saw each other almost every day. (Apollinaire even managed to broker a gallery contract for the Italian with Picasso's dealer Kahnweiler.) In quick succession, they began to create graphically innovative free verse—Apollinaire the first calligramme, Carrà parole in libertà, seen above.
---