The Scout

Alfred Stieglitz, ca. 1909 Photographed by Edward Steichen
Marius de Zayas, "Femme! (Elle)" in 291 no. 9 (November 1915)
Francis Picabia, "Voila Elle" in 291 no. 9 (November 1915)
Searching for European artists to exhibit at his 291 gallery in New York, Alfred Stieglitz deputized the Mexican artist Marius de Zayas, who was living in Paris in 1914, as a scout. Abetting his efforts to find talent, Francis Picabia introduced de Zayas to the poet Guillaume Apollinaire. De Zayas's rapturous report of the meeting prompted Stieglitz to begin an exchange of journals with Apollinaire through the mail. Stieglitz's magazine, 291, was modeled in part on the French poet's review Les Soirées de Paris.
---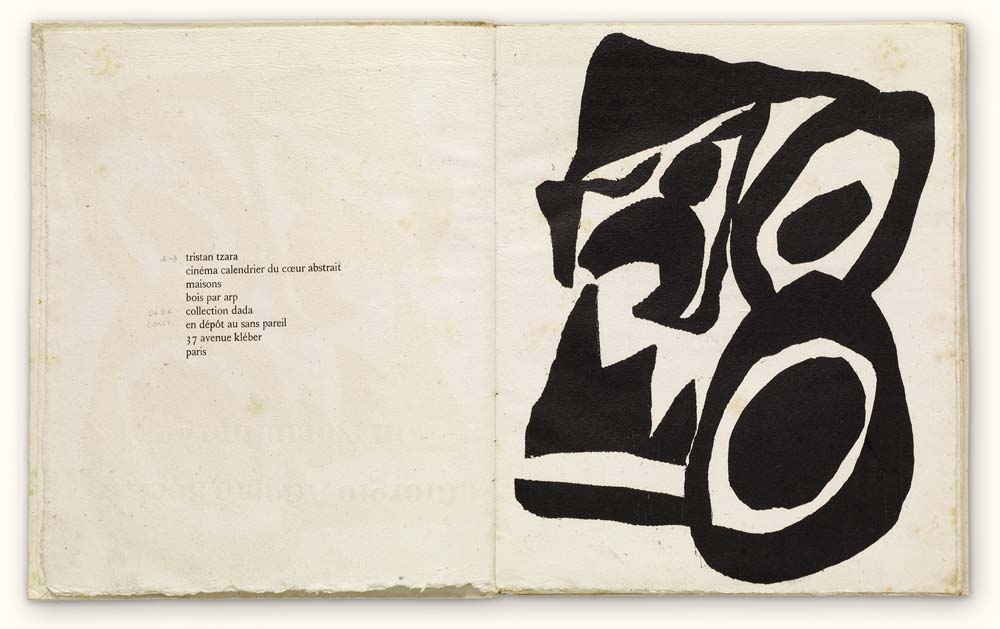 Hans Arp and Tristan Tzara, Cinema Calendrier du Coeur Abstrait, Maisons (Cinema Calendrier of Abstract Hearts, Houses), 1920 

This book is a collaboration between a Dada artist and poet. Tzara collages elements of language into unexpected associative strings, while Arp uses the organic forms of his woodcuts to evoke the unceasing transformations of language.
---

Sophie Taeuber dancing at the Cabaret Voltaire
Since 1916 Sophie Taeuber has been studying dance with Rudolf von Laban who advocated creative freedom of movement. In April of that year Taeuber and another student of Laban, Mary Wigman (who would go on to become a prominent modern dancer), began performing at the Dada Cabaret Voltaire in Zurich, dressed in costumes designed by other Dadaists. At the Cabaret dance was integrated with poetry, music and visual arts. Taeuber's abstract practice would also reside at the intersection of various media.
---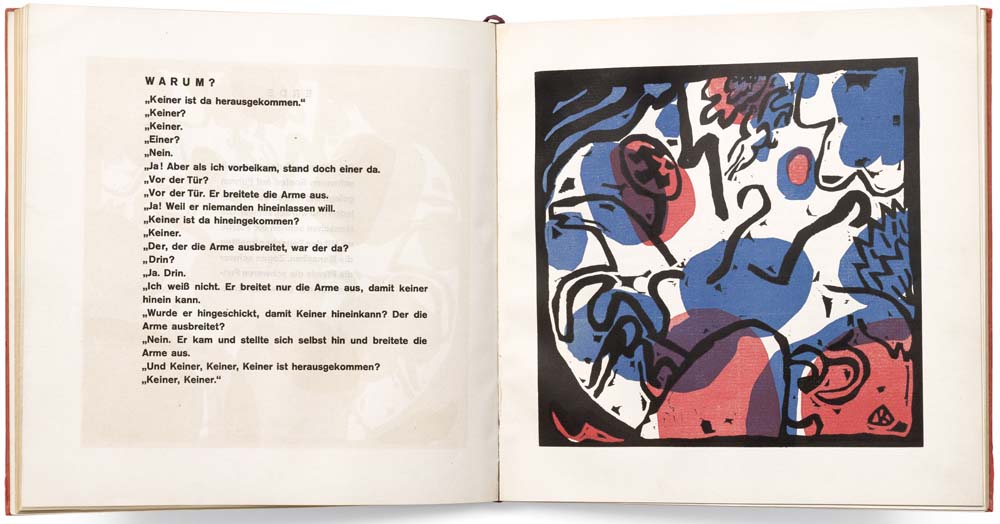 Vasily Kandinsky, Sounds, late 1912 or 1913
In late 1912 or 1913 Vasily Kandinsky produced a volume, in which he paired thirty-eight of his poems with woodcuts. He declared: "I wanted to create nothing but sounds," and called the book Klange (Sounds). In these poems, written between 1907 and 1909, Kandinsky emphasized the physiological impact of the sonic quality of language, often repeating words until, he suggested, focus on meaning subsided and new focus on aural character of words emerged. These poems were instrumental in Kandinsky's development of abstraction. They also inspired many other artists, including the Dadaists, who read them aloud in 1916 at the Cabaret Voltaire in Zurich.
Learn more about this book and see an interactive page-turning view of it


---
THE OVERNIGHT GUEST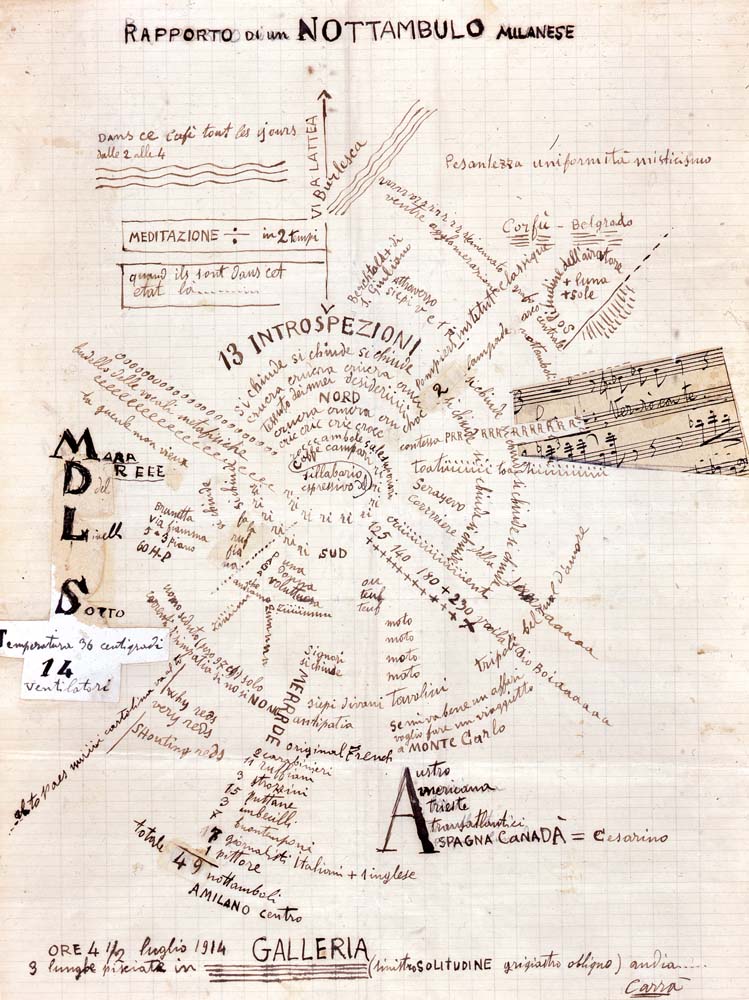 Carlo Carrà, Chronicle of a Milanese Night Owl, 1914

The poet-painter Carlo Carrà traveled to Paris as part of a delegation of Italian Futurists in 1914. The French poet Guillaume Apollinaire put him up in the offices of his review Les Soirées de Paris, and the two saw each other almost every day. (Apollinaire even managed to broker a gallery contract for the Italian with Picasso's dealer Kahnweiler.) In quick succession, they began to create graphically innovative free verse—Apollinaire the first calligramme, Carrà parole in libertà, seen above.
---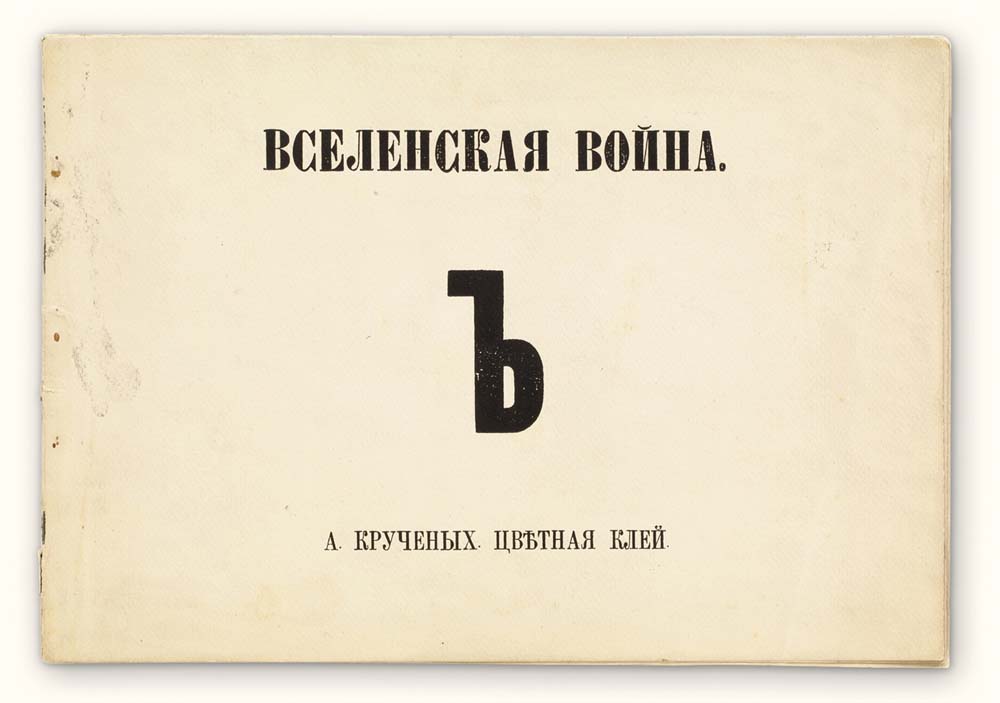 Image: Aleksei Kruchenykh. Universal War. Ъ [Cyrillic hard sign], 1916
A bold Cyrillic hard sign - Ъ - is placed prominently in the center of the cover of this book, made by the vanguard Russian poet Aleksei Kruchenykh and published in 1916. English translations usually omit the hard sign from the title's translation, and include only Universal War written above. Yet it is this awkward unpronounceable letter of the Russian alphabet that best conveys the groundbreaking character of Kruchenykh's poetry and his collages inside. Zaum (trans-rational) poetry aimed to unlink the form of a word from an automatic association with a given meaning by using word fragments and creating unexpected juxtapositions of words and letters. In Russian written language before 1917, every consonant at the end of a word was followed by either a soft or a hard sign. While the soft sign actually modified pronunciation, the hard sign merely indicated a lack of change. As such many saw it as obsolete, and by 1916 debates were raging about the need to eliminate the hard sign from Russian spelling in order to modernize it. Kruchenykh seems to equate the redundancy of this letter with the absurdity of World War I.
This book is on view in Inventing Abstraction, where you can also flip through its digitized version. You can see some of the pages of this book and hear Kruchenykh's sound poems on the exhibition's website.
---

In 1948 the arrival of tape recording made audio recording widely accessible in the same way as box camera once made photography. Shortly thereafter Blaise Cendrars' friend and fellow poet Jacques-Henry Levesque and a jazz musician Frederic Ramsey, Jr. recorded Cendrars' poem La Prose du Transsiberien et de la petite Jehanne de France (Prose of the Trans-siberian and of little Joan of France), written in 1913 and published in collaboration with Sonia Delaunay as the first simultaneous book. Levesque and Ramsey created what they called "poemontage" - with poetry and jazz sounding simultaneously. This is the earliest known recording of the poem, which Cendrars himself approved. It is playing next to the copy of the poem in the exhibition galleries.
You can also listen to this recording on the exhibition's website.
---
Tomorrow Friday February 8th at 3pm, the poet and founder of ubu web, Kenneth Goldsmith will read Blaise Cendrars' poem La Prose du Transsiberien in the galleries of Inventing Abstraction.

At 4:30 Masha Chlenova, of the exhibition's curatorial team, will lead a public tour of the exhibition.
---
Poetry and abstraction
Guillaume Apollinaire with a wound from his service in French artillery in World War I.
Many artists in the exhibition wrote experimental sound poetry or had important relationships with writers who did. Ubu Sound, an online archive maintained by the poet Kenneth Goldsmith, contains a wealth of historic recordings of the artists and poets whose work is included in Inventing Abstraction. One can hear Guillaume Apollinaire, Hans Arp, Tristan Tzara and a rare collection of interviews with Marcel Duchamp.
---
THE ROAD TRIP
In late July 1912, Francis Picabia, Guillaume Apollinaire, and Claude Debussy set out on a road trip, packing into one of the painter's magnificent cars. As they rumbled along, they debated the validity of "pure painting." Picabia argued with passion for a new art that would no longer picture things in the world. When he got home, he worked feverishly, creating audacious paintings that when exhibited that fall counted among the first abstract works shown in Paris. Put a modern artist, poet, and composer in a car and what do you get? Abstraction.
Here's Picabia behind the wheel years later in a photo by Man Ray
---
On Friday February 8 at 3pm, Kenneth Goldsmith will read poet Blaise Cendrars' "The Prose of the Trans-Siberian and of Little Joan of France" in the Inventing Abstraction, 1910–1925 exhibition galleries, in front of the influential book illustrated by Sonia Delaunay. The display includes Delaunay's original painting for this book, Delaunay's and Cendrars' working maquette, and the final published version - in this case a copy that belonged to the poet Guillaume Apollinaire.
Watch a video of Goldsmith talking about his role in MoMA's Artists Experiment program.
---