Ai Wei Wei, Fountain of Light, 2007
This steel and glass structure, illuminated from the inside, is the contemporary Chinese artist Ai Wei Wei's reinterpretation of Vladimir Tatlin's Monument to the Third International.  It was exhibited at Tate Liverpool in 2007.
---
---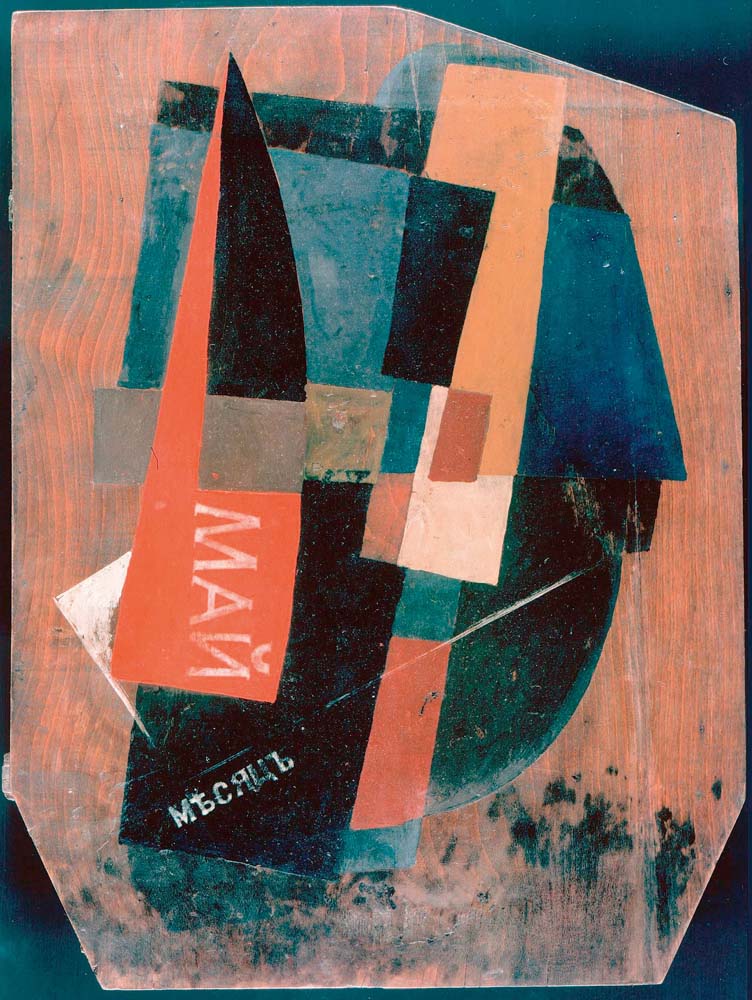 Vladimir Tatlin, Composition, 1916
Vladimir Tatlin made and exhibited three-dimensional abstract reliefs in 1914 and 1915. In this work he revisits two-dimensional form, as if to reflect on the roots of his abstract practice. The media of this work - painted in tempera on wood - refer to medieval Orthodox Christian icons, which inspired many avant-garde artists in Russia. At the same time, overlapping planes, oval shape and stenciled letters in this work directly reference cubist collage, another key source of Tatlin's abstract idiom. The inscribed words 'month' and 'May' most likely refer to the artist's close affinity with the poetic practice of Velimir Khlebnikov, with whom he was traveling and working in May of 1916, the year this work was created.
---
From our colleagues in the Education department:
Last Friday, a group of us in the Education department went to visit No Longer Empty's current exhibition, "How Much Do I Owe You?".  The exhibition was installed in an unoccupied bank building in Long Island City complete with vaults and turn-of the-century details.  One of the highlights of the show is this amazing digitally created projection of Vladimir Tatlin's Monument to the Third International from 1919/20- you can see the real thing at MoMA right now, in Inventing Abstraction on view through April.
---
The reconstruction of Vladimir Tatlin's Monument to the Third International seen in Inventing Abstraction received New York magazine's seal of approval as an example of "brilliant highbrow" taste—quite a shift from its initial revolutionary intentions!
---
This sixteen foot wooden tower is a model Vladimir Tatlin made with a group of students in 1920. It was a proposition for a steel structure that would rise 1300 feet (higher than the Eiffel Tower) and straddle the Neva river in Petrograd. It was to house the Third Congress of Comintern, the international organization of Communist parties dedicated to promoting world revolution. Tatlin's friend and advocate the art critic Nikolai Punin published a brochure explaining his intentions with this work. It described the artist's desire to build four internal glass structures that would house various agencies of the Comintern and would revolve at different speed. The largest structure, a cylinder, at the bottom was to house its legislature, and would make one revolution per year. The pyramid, its executive, revolving once per month; the upper cylinder, its press bureau, revolving once per day; and the half-sphere at the top, its radio station, revolving once per hour. 
The monument was never realized, but the model was widely exhibited and is best known through photographs (including one reproduced here). In the early 1920s Tatlin's Tower became an international symbol of revolutionary aspirations.   
---
The Carpenter

Vladimir Tatlin, ca. 1914
The Russian artist and former ship's carpenter Vladimir Tatlin traveled to Paris in March 1914: among his primary goals was to make the acquaintance of Pablo Picasso, whose work in Russian private collections he already knew. He came to Picasso's studio proposing to work as his servant. Picasso promptly refused, but graciously allowed him entry. Tatlin was taken by the Spanish artist's novel sculptural still-lifes, assembled of planes of cardboard, metal and wood. Six weeks after he returned to Moscow, he exhibited "painterly reliefs" of his own in his studio on Ostozhenka Street.
---